FEATURED CLIENT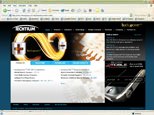 WWW.TECHTIUM.COM
Compelite's success is due to our clients. In this issue, we would like to focus on one of our more recent clients, Techtium.
Founded in 1995, Techtium is an international analog semiconductor company that specializes in mobile battery management products and solutions. Techtium's backupower™ IC based technology may be used in a variety of solutions, all of which share a common result – they all bring true meaning to the phrase "mobile device". With backupower™, mobile device users enjoy the freedom that comes from knowing their devices are powered-up and ready to use anywhere, anytime. Techtium's battery management technologies include backupower™ and smartcavity™.
Techtium's R&D center is based in Israel, their ASIC design is in the Netherlands, and they have Sales & Marketing divisions in the USA, Hong Kong, Taiwan, and China along with local OEM/ODM support in Hong Kong – they truly are an international company!
Compelite helped Techtium to revamp their older website's design and to add a Content Management System (CMS) which will allow them to keep their products, solutions and news updated. Due to the nature of Techtium's business, they have a lot of product information, so their website not only had to be engaging but also had to present information logically and in an easy to find manner. This was important to Techtium because many of their clients (both existing and prospective) are engineers who, in addition to product names and descriptions, need the finer details and specifications as well.
The CMS developed by Compelite also allows for eCommerce so that companies across the globe can order Techtium's products. Techtium can use the CMS to update the products they have available along with the descriptions, set the prices (this can be done by unit cost based on numbers ordered), determine if samples are available, and allow the customers to select multiple items and even method of shipping they would like to use.
For more information on revamping your own website… or even building a new website from scratch… feel free to contact us so we can discuss your requirements with you.
Labels: content-management-system, shopping-cart, website-design