Melbourne's Yarraland Group use Compelite to develop website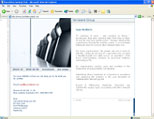 Yarraland, a new consulting company in Melbourne, have launched their first website, with the help of Compelite. The whole project was done via e-mail and a few phone calls - showing global business doesn't have to be hard work!
Mr Philip Kirkwood, the MD of Yarraland Group found our website on the internet and liked our portfolio's clean, functional design approach. After an initial phone call for pricing and a project brief, Compelite then produced a design which was accepted after a few minor changes. After receiving the website content via e-mailed word documents the site was built and launched in 5 days.
Please feel free to visit
Yarraland.com
Visit our full
web design portfolio
Labels: website-design