Grapevine Launch New Website
Grapevine have launched their brand new website this month. Grapevine is an executive recruitment and consultancy company operating internationally exclusively for the hospitality industry.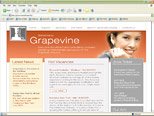 Grapevine's website features a jobs system and online application, complete with a Flash jobs ticker. They are using HTML, PHP, Flash and MySQL Technologies integrated together to form this stunning site.
Grapevine are also using Compelite's Hong Kong Hosting. Compelite provide fast, reliable web hosting and e-mail solutions with web based tools to help you get the most out of your website and e-mail.
Labels: flash, hosting, jobs-ticker, website-design