Streaming Video in FLASH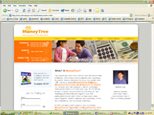 Compelite has helped Moneytree launch their first website in Hong Kong. The new start-up which helps us understand about MONEY, through seminars, training and books, is another great example how Compelite work hand in hand with clients to build their first website.
After over 250 successful websites, Compelite make it easy for you to have a world class website first time around. No risk, no fuss and guaranteed results to get your on-line business working.
The website features a wonderful media section allowing Moneytree to upload to their photo gallery and even a streaming video section.
Check out one of the
Moneytree photo galleries
or choose one of the
Flash streaming videos
to see how smooth video runs on our Hong Kong server.
For any help with your first website feel free to
contact us
.
Labels: flash, website-design