International Cosmetic Suppliers LTD.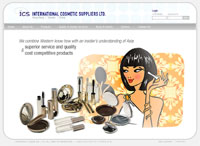 International Cosmetic Suppliers (ICS)
have gone with Compelite to design their website complete with
Content Management System
and members only access area. Using PHP programming and MySQL database management system, this website is something to be proud of.
ICS is a full-service provider of packaging solutions to the world's cosmetic and beauty supply industry. They supply products to small, large and multi-national cosmetic companies and manufacturers.
Labels: content-management-system, website-design