Australian Wine Centre Website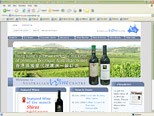 Australian Wine Centre have chosen Compelite to design their brand new website. Special features include an on-line wine product catalog and an on-line shopping list submission system.
Australian Wine Centre
was established in Hong Kong in 2004 and specializes in the sales and marketing of premium "boutique" wines from Australia. Their company's vision is to bring the delights of fine wine produced by small volume Australian producers which would otherwise not be available in the city.
Labels: website-design