The Australian Association of Hong Kong
WWW.OZHONGKONG.COM

Compelite is pleased to have been working with the Australian Association of Hong Kong for a number of years, providing regular website maintenance and updates. When the time came to completely revamp and refresh the website to give it a more up to date appearance, Compelite was happy for the opportunity to expand its involvement with the Association.
The project's aim was to provide a modern, clean, and engaging design, maximizing the use of space while at the same time providing an easy to follow, intuitive navigation allowing users to reach the important information with a minimum number of clicks.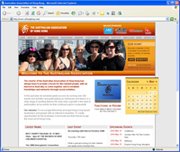 As the Association organizes a considerable number of events each month, one of the objectives for the new website was to keep members up to date with the schedule of upcoming activities. This was addressed by creating an online Calendar which is visible on all main pages of the website, allowing visitors to see at a glance which dates in each month have activities scheduled. Mousing over a particular date displays the particular events occurring on that day, and each event can then be clicked to provide the detailed information. Members are then able to register for the event by downloading and filling in the Event Registration form.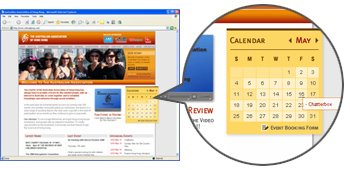 The Australian Association is the publisher of KangaNews magazine, which is distributed each month to Australian expatriate homes, businesses and interest groups. In the future members will be able to log in to a special password protected section of the new website where they can download each issue in electronic format.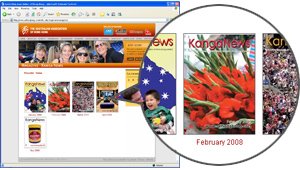 In addition to the enhancements for website users, the new website also includes features that make it easier for the Association to manage. Incorporating Compelite's Content Management System, website administrators are able to quickly add and update site content by using a simple, easy to use, web browser based interface.
Are you considering revamping your existing website? Compelite would love to work with you to make your project a similar success. Please feel free to contact Pete Grella at 2524 3303 or via email at
info@compelite.net
to arrange a free consultation.
Labels: content-management-system, event-registration, website-design