Allen & Overy, FPD Savills and Chesterton use Compelite's eMarketing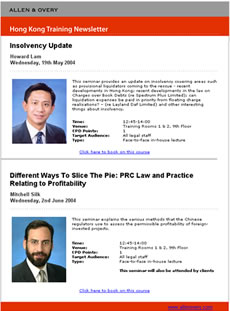 Law firm Allen & Overy join FPD Savills, Chesterton Petty, Drake International and The Grand Stanford Intercontinental this month as new users of the emarketing Solution which Compelite have developed in Hong Kong over the last 2 years.
Design, Build, Send, Track and Archive. Our eNewsletter Solution helps you keep in touch and find out what your clients want.
The eNewsletter solution allows our clients to keep in contact with their clients or employees with a real-time tracking and monitoring of active links. Allen & Overy are also integrating with our eRegistration module to help keep track of events and training courses.
To find out more click
eMarketing
or
contact us
for a demonstration
Labels: emarketing