Hong Kong Dragons Website by Compelite
The Hong Kong Dragons
Aussy rules football club have gone with
Compelite
to design and host their new website:
www.hk-dragons.com
.
This professional looking website is created using HTML, PHP and MySQL technologies. It features a content management system which allows the 'Dragons' to update their own site when neccessary, and comes complete with a photo gallery which is also run by the content management system.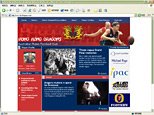 The origins of the club stem back to late 1989 where a bunch of rugby supporters bet Ray Wood that he would not be able to establish an Aussie rules club in Hong Kong. Ray took on the challenge, and recruited the likes of Bruce Brown, Paul Hart, Graeme Stillwell, Colin Reid, Ric Reddell, John Thompson, John Dillon, Paul Devereux and Ian Clyne to assist. The Dragons were formed soon after.
Labels: content-management-system, website-design