HindSight Launch Website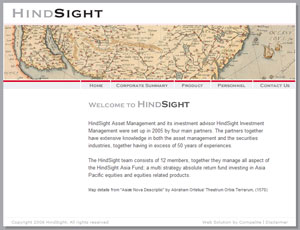 HindSight have launched their new website this month. This website is quite simple with a very
Search Engine friendly design
. Programming is in PHP, and a professional photo shoot for the flash header images.
HindSight Asset Management and its investment advisor
HindSight Investment Management
were set up in 2005 by four main partners. The partners together have extensive knowledge in both the asset management and the securities industries, together having in excess of 50 years of experiences.
The HindSight team consists of 12 members, together they manage all aspect of the HindSight Asia Fund; a multi strategy absolute return fund investing in Asia Pacific equities and equities related products.
Labels: flash, website-design